Roy Harold Watson, September 7, 1954 – April 5, 2021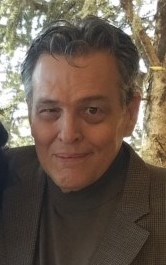 My father died of cancer and liver failure on Easter Monday. I share here some remarks I wrote for his funeral on Friday:
Hal Watson, my dad, was a big part of the first 12 years or so of my life. Our relationship has been distant for many years, even though we still loved each other. He and my mom, along with his parents, gave me and my brother a beautiful childhood. I have many fond memories of his fun-loving, prankster spirit, and I never doubted that my dad was cooler than my friends' dads. He always sought to teach me to be brave, to learn new things, and to not be too shy or timid, for which I will always be thankful. And I am thankful that I got to reminisce over some of these memories with him in the months before he passed. My last conversation with him while he was awake was on March the 30th. He struggled to speak, but he talked to me about God, speakers and how Uncle Tim needed to come fix his computer. And the last thing he said to me, through belabored breathing, was, "I love you." May he rest now in peace.
One of his favorite songs, which he used to sing to me as a kid while strumming his guitar, was "Mr. Bojangles." Here is a cover my brother sent me that sounds like how Daddy used to sing it:
---