Ten years ago, I became Catholic
Today officially marks 10 years for me as a Catholic. Several months before Easter of that year, I began the standard classes called the Rite of Christian Initiation of Adults at St. Joseph in Starkville, MS. Two years before that, around spring and summer of 2007, I first began to be drawn to the Catholic faith, even though I knew almost no Catholics with whom religion was a topic of conversation.
I was introduced to the Catholic Church largely through sources antithetical to her: the Baptist A Beka Book history textbooks in grade school, and preaching and religious tracts in the Church of Christ. In 2007, I started reading Catholic literature on websites and Internet forums, and one evening in 2009, without calling in advance or getting in touch with anyone, I made my way awkwardly to a room full of strangers in a classroom behind St. Joseph Church at the RCIA time posted on the church's online bulletin. The only other time I had ever visited a Catholic church was when I attended a St. Joseph weekday mass once the year before, just to see what a Catholic church was like.
There were two reasons I initially wanted to become Catholic: I began to believe she was the one true Church founded by Jesus, which beforehand I had been taught and believed was the Church of Christ, the church I grew up in. Secondly, I had always believed the Bible was the only source of authority in religion, but I began to believe that the Catholic Tradition and Magisterium were necessary to believe in the Bible, since it was those things that gave us the Bible in the first place.
Back then, like many young Christians going through college, I suffered doubts about the origin and veracity of the Bible. The Bible also felt somewhat distant and imperceptible. It was through the Catholic Church and her sacraments that I felt most connected to the Bible and to the person of Jesus.
I still consider myself blessed to have been brought up in the Bible Belt, where faith in Jesus and biblical morality, although Protestant, was instilled in me in a permanent way. The older I get, the more I realize how rare of a gift that is. Modern life is so far removed from Christianity, that we are falling headlong into a hell on earth. Being reared in the Church of Christ was somewhat like being formed in a shielded time capsule, where one could assume some semblance of basic Christian principles.
I never imagined that on my tenth anniversary as a Catholic, public masses would be virtually shut down throughout much of the world. The coronavirus pandemic feels rather apocalyptic. I'm thinking over the last ten years, where I've succeeded and failed in practicing my religion. Constant controversy in the Catholic news and blogosphere the last few years has also caused me to look in the mirror and think more about how I live the Catholic faith in my personal life from day to day.
I couldn't imagine not being Catholic, so I'm glad that as it happens, I wasn't turned away from the Church early on by some hot-button issue or other. I'm not sure if I ever would have discerned a calling for marriage if not for the Catholic Church. I can't imagine not praying the Rosary, or receiving communion, or going to confession, or believing in the Real Presence or in guardian angels, or in visiting an old cathedral in San Antonio or New Orleans and feeling more than just a tourist's connection.
Well, I can partially imagine it, now that the coronavirus has shown all of us what life would be like without our normal ebb and flow. And it is not very pleasant. Sunday church gatherings are illegal in Mississippi, imagine that! Mass is not available to most Catholics in many parts of the world, although we are blessed to have priests and parish staff, such as those at St. Thomas Aquinas here in Hattiesburg, who have enabled confession and Eucharistic adoration to take place when possible.
Ten years. You often hear people say, "It doesn't seem like it's been that long." But to me, it actually does seem like a very long time ago. I feel like a different person in many ways, hopefully a better one, but that is not my call to make. I hope in the next ten years, I will have given a little more effort at living for Jesus and helping others. Wish me luck.
Confirmation pictures
A friend of mine from the Starkville Church of Christ, Wil, was sitting in the pews during my confirmation and got the friend of another RCIA candidate to snap a few shots, proof that it happened!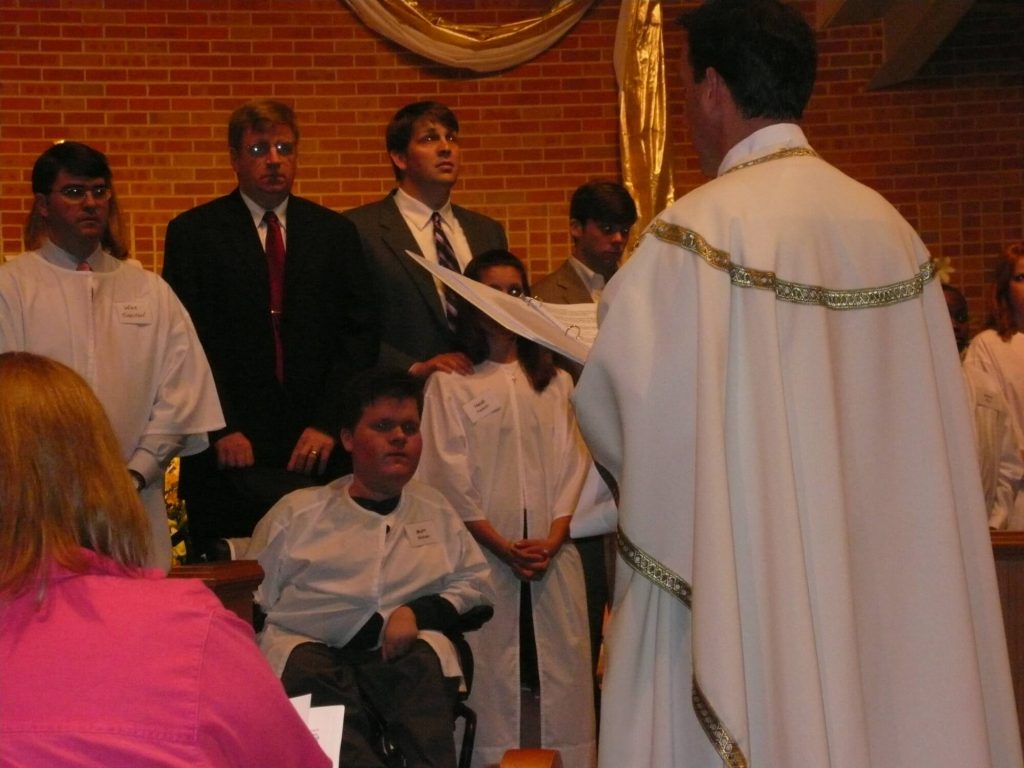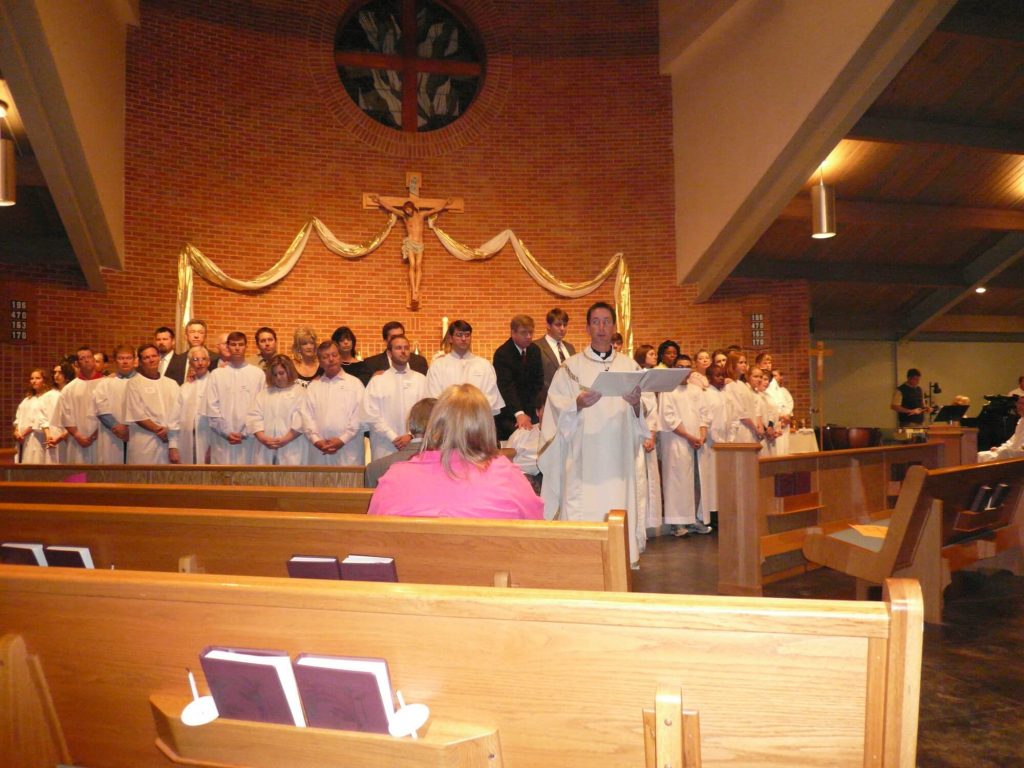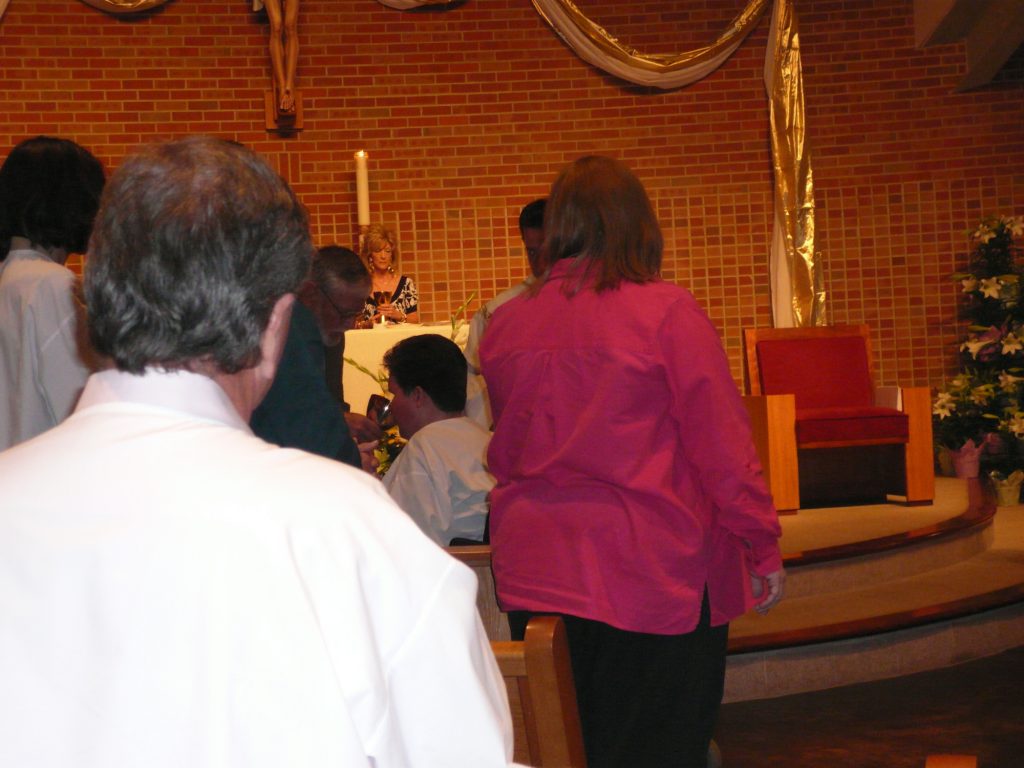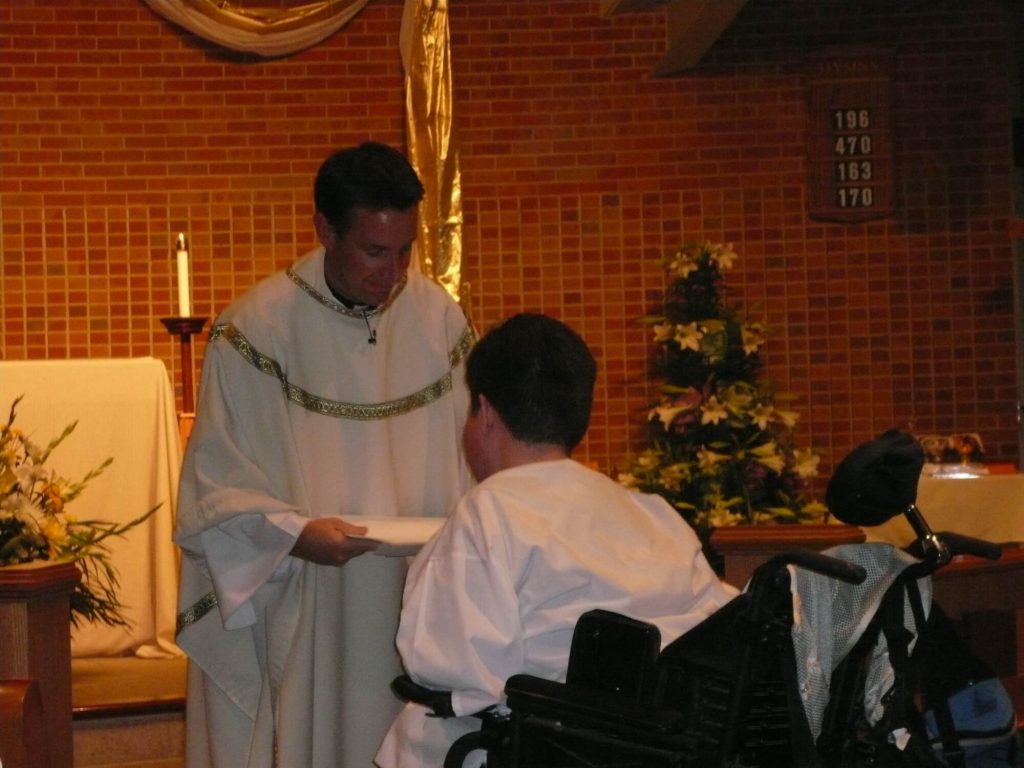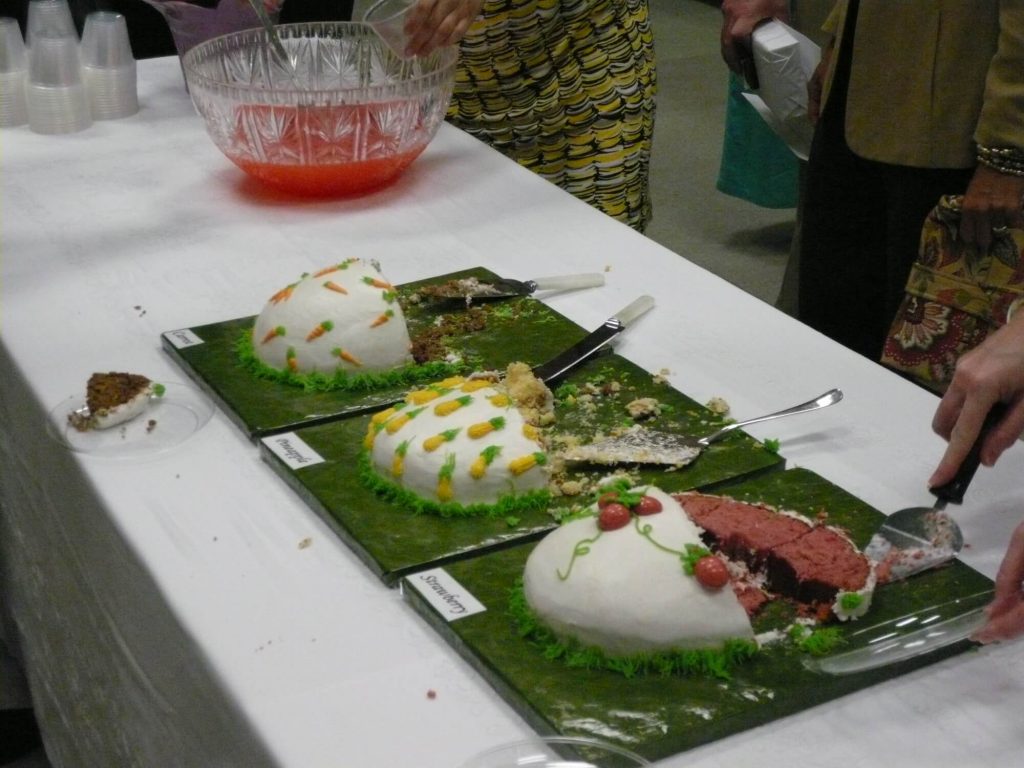 Wedding
Although we got married in New Orleans, all of the marriage prep was at St. Therese in my hometown of Jackson. My wife and I made good friends there. Here is a photo of us with the priest who did our marriage prep, Monsignor Elvin Sunds.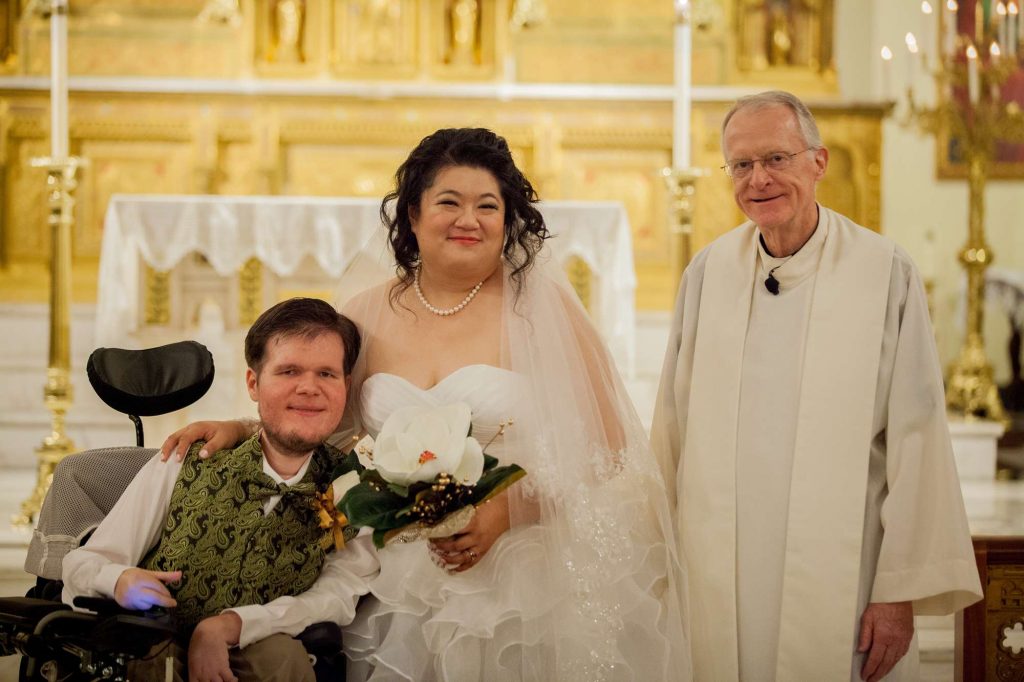 Traditional Latin mass
Ever since I converted, I've always wanted to go to a traditional Latin mass. It took almost 10 years, but I finally fulfilled this dream with my wife and a caregiver last year, when we drove to St. Patrick minor basilica in New Orleans. I have no photo or video evidence of this, but here is a YouTube video of the same church and the same priest that said the mass while we were there. Beautiful, no?
Catholic apps
As a web developer for the past 3.5 years, I feel it appropriate to share some miscellaneous apps and web resources pertaining to the Catholic faith I have found handy:
---